Upcoming Events
Calendar above shows live changes
February 2020 Bulletin Calendar
March 2020 Bulletin Calendar
Ministers Schedule - March thru May 2020
You can now make one-time donations or recurring monthly gifts to St. Edward's online. It's safe, secure and easy.
OFFICE CLOSED UNTIL FURTHER NOTICE
OFICINA CERRADA HASTA NUEVO AVISO
ALL parish activities along with ALL Masses have been cancelled per instructions from our Bishop. By April 15, he will make a determination regarding extending any church activities through the month of May.
In case of a medical emergency or if you are in need of anointing of the sick, please contact Sacred Heart (903) 794-4444.
This policy will remain in effect until our new pastor arrives.
While our Parish Offices are closed, we will be monitoring our emails and checking our voicemail.
TOME NOTA, POR FAVOR: se han cancelado TODAS las actividades junto con TODAS las Misas segun las instrucciones de nuestro Obispo. Para el 15 de abril, él tomará una determinación sobre extender esta decisión hasta el mes de mayo.
En el caso de una emergencia o si necesita la unción de los enfermos, favor comunicarse con la Iglesia del Sagrado Corazón al 903-794-4444. Esta norma continuará en efecto hasta que llegue nuestro nuevo párroco. Mientras se mantengan cerradas las oficinas de la parroquia, estaremos monitoreando nuestros correos electrónicos y revisando nuestros mensajes de voz.
March 20, 2020
Note to St. Edward's Parish,
We are all concerned about keeping this virus under control. For this reason, we have had total campus closure until further notice. The staff will be working in the back ground to take care of all essential duties. The staff will continue to monitor emails and return phone calls. Please reach out to one of the staff if you have any questions or concerns. We are all in this together and we will get through this very difficult time if we lean on one another. While we wait for our New Pastor, Fr. Desam to arrive, if you have a medical emergency please contact Sacred Heart's office.
No Masses during the COVID-19 pandemic will mean several weeks without offertory collections. We know all have much on their minds during the COVID-19 closures and quarantines and are most likely not thinking about giving. Please remember your Parish and continue your donations to the church. It is through your faithful and continued ongoing contributions that we as a parish can continue to the work of the Church in good times and bad. You may mail your envelopes to the parish office or you can sign up online at our parish web site for online giving. May God keep you and your family safe and well during this most difficult time. You can reach the Parish Manager with any concerns you may have at .
Please see below a list of helpful resources during this time of social distancing.
The Diocese of Little Rock website has a list of links and Catholic resources during this difficult time such as prayer resources, places to watch Mass, scriptures and reflections, a list of special confession times, and faith formation.
Center for Disease Control - CDC
EWTN Global Catholic Television Network
EWTN has a mobile app and online website that has the times guide for Masses as well as access to a ton of stream-able content. Of course, Mass is streamed on there several times a day. This time of year there are fascinating programs that tour the Holy Land, dramatic productions of Christ's ministry, death, resurrection and the early church, and prayer services.
Here you can find a Lenten study and daily devotionals.
Formed FORMED.org
St Edward's has subscribed to a dynamic new online platform called FORMED. Every parishioner will have 24/7 access to the best Catholic content on any device, including your computer, smartphone and tablet with internet access. It truly is the Catholic faith - on demand. For assistance email Kelli Nugent at
EWTN Mobile App
EWTN has a mobile app that has the times guide as well as access to a ton of stream-able content. On most weekdays at the 3 PM hour, there's children's programming. They have a Divine Mercy Chaplet specifically for children.
Holy Heroes has lent specific content and activities, and they will have Easter content as well. They also have Mass sheets and activities that can help kids stay connected to the readings each Sunday. This could be an especially helpful guide if families are watching televised streams of the Mass at home.
Catholic Icing
Catholic Icing is a wonderful resource especially for our little kids. There are crafts, printable coloring sheets, recipes, so much more. Catholic Icing also has a blog for parents.
Tiny Saints is offering free printable activities and coloring sheets. There is also a fun, short personality quiz that will tell the kids which saint he or she is most like.
If you have any questions regarding Religious Ed or RCIA, please reach out to our Director of Faith Formation Kelli Nugent at
High School Youth
Mike Schmitz is a dynamic Catholic priest and speaker. At Ascension Press you can find his video archive. Fr. Mike has a video on everything you can think of from the Eucharist, to the Mass, to lent, to dating. Informative, engaging, and entertaining, you'll love Fr. Mike!
The Steubenville Youth Conference is a nation-wide youth conference where teens encounter Jesus through talks and videos by inspirational Catholics. Adoration is another highlight of the experience. SteubySTL 365 is a resource that allows youth to have the Steubenville experience 365 days a year. Get engaged and inspired by the blogs, talks, and videos.
Virtual Youth Ministry Nights from 7-8 PM Sundays - TBD
Wild Goose TV allows you access to tons of videos and content about our Catholic faith.
You may also reach out to our Youth Minister, Woody @
Weekly Mass Times
Welcome to St. Edward's

Fr. Balaraju Desam.
Holy Thursday 6:00 PM Live Stream bilingual
Good Friday 3:00 PM English Live Stream
Good Friday 6:00 PM Spanish Live Stream
Easter Vigil 8:30 PM Live Stream bilingual
Church Restoration Completed
| | |
| --- | --- |
| | |
| Before | After |
20 de marzo de 2020
Nota a la Parroquia San Eduardo:
Todos estamos preocupados en mantener este virus bajo control. Por esta razón, tenemos el cierre total de las instalaciones hasta nuevo aviso. El personal de la iglesia estará trabajando en segundo plano para atender las obligaciones esenciales. El personal continuará monitoreando el correo electrónico y regresando llamadas telefónicas.
Favor, comuníquese con uno de los empleados con cualquier pregunta o inquietud. Todos estamos unidos y superaremos estos muy dificultosos tiempos, si nos apoyamos mutuamente. Mientras esperamos la llegada de nuestro nuevo párroco, el Padre Desam, si tienen alguna emergencia médica, favor comunicarse con la oficina de la Iglesia Sagrado Corazón.
Sin Misas durante la pandemia del COVID-19 significará que pasarán varias semanas sin colectas de ofertorio. Sabemos que todos tienen mucho en la mente durante los cierres y cuarentenas del COVID-19 y lo más probable es que no estén pensando en dar. Por favor, recuerden a su parroquia y continúen haciendo sus donaciones a la iglesia. Es a través de su fe y continuas contribuciones que nosotros, como parroquia, podemos continuar haciendo el trabajo de la Iglesia en los buenos tiempos y en los malos. Pueden enviar su sobre por correo a la oficina de la parroquia o registrarse en línea en la pagina de la parroquia en la red para hacer donaciones. (Favor no enviar dinero en efectivo por correo). Que Dios los mantenga a ustedes y sus familias a salvo y bien durante este tiempo tan difícil. Puede contactar a la Administradora de la Parroquia con cualquier inquietud que pueda tener en el correo
Habrá más información prontamente.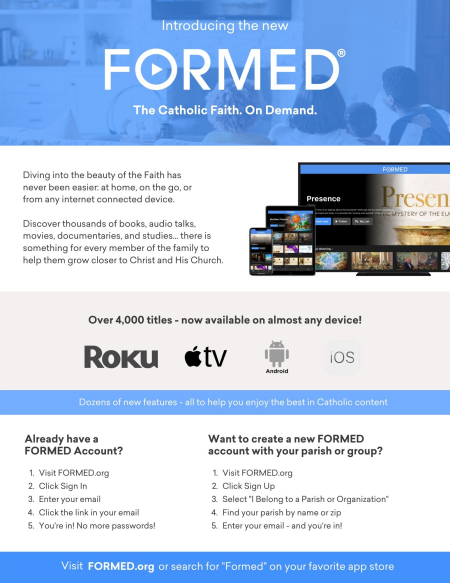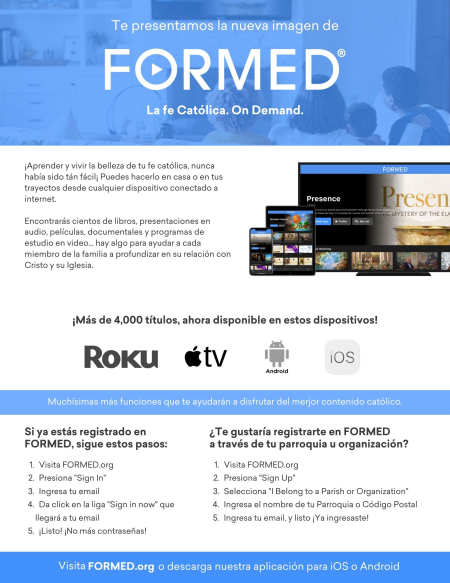 Rest in Peace Fr. James P. West +