News in the Parish
Centennial Restoration
Congratulations to the parishioners of St. Edward! We are now at our Beautiful Renovated worship space.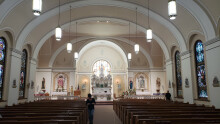 Security Committee Meeting
Anyone interested in learning about or sharing information or ideas about the security of the St. Edward campus is invited call the office or email the Business Manager at
St. Edward's Annual Drawdown

April 6th, 2019
Arkansas Convention Center
Chance to win $5,000
$100 Donation
Tickets will become available in February (Date-TBD)
We are now soliciting Silent and Live Auction Prizes. Additionally, if you or someone you know would like to sponsor St. Edward's Annual Drawdown, we would be delighted for your sponsorship!
For auction items you would like to donate and for sponsorship,
please contact Pam Beck
Letter from Bishop about annulments - Molu proprio mtis judex D